Shakilla Disses The King of Collabos, Mejja
---
Posted on Wednesday, January 20, 2021
---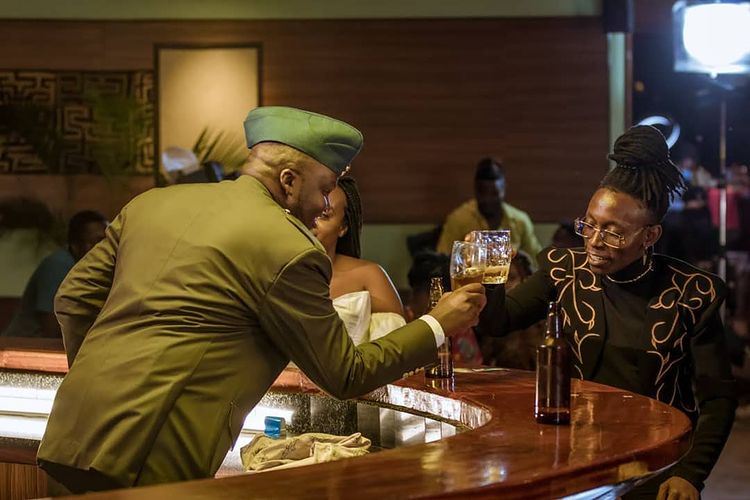 ---
Shakilla has decided to be the advisor of the Kenyan music industry; she took it upon herself to critique Bensoul's song Nairobi in which renowned artists such as Sauti Sol, Nviiri the Storyteller and Mejja have featured. Shakilla gave her two cents of thoughts stating that the song is very good, however, Mejja's bit was disgusting. Here is what she posted on her Instagram stories:
"Can someone tell Mejja it's not a must for him to feature in every song, the NAIROBI song was good until his part. He looks like a low budget Amin Dada his 3 seconds were unnecessary. His part deleted and the song to be re-uploaded, before it's too late."
In the song, Mejja plays the role of a waiter dressed up in an 'Idi Amin' kind of attire. His part is approximately 30 seconds, something that led Shakilla to refer to him as a 'low budget Amin Dada.' Shakilla is however not the only netizen that has expressed distaste for Mejja's feature in the song. Immediately the song dropped, several people noted that Mejja's part had a problem. Some said it's the fact that he was holding a glass in the video instead of his signature tumbler, others said that Nairobi was not Mejja's type of song while others just hated. This raises the question, did Shakilla speak everyone's mind?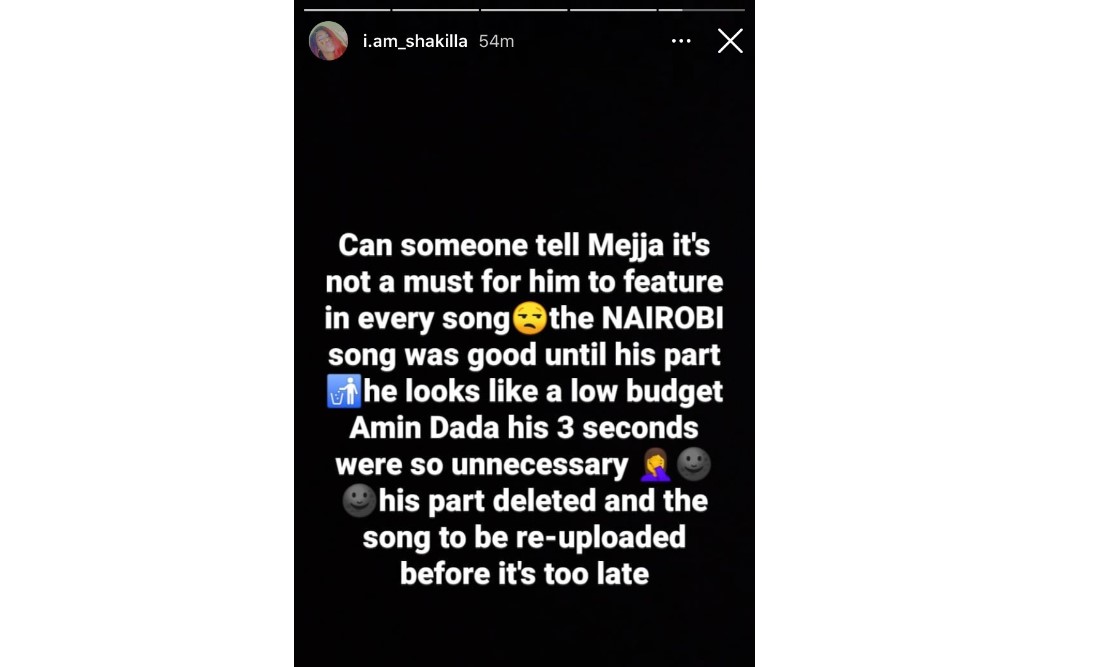 ---
Last year, Mejja featured in several songs with local artists, earning himself the title, King of collabos. People made fun of this saying that Mejja is literary carrying the whole Kenyan music industry in one hand while balancing his tumbler on the other. He is yet to clap back at Shakilla or give his view on her comment.
We cannot deny the fact that Mejja is the secret ingredient in most of his collabos. From Utawezana to watoto na pombe to Lewa, he has boosted viewership on YouTube as most people go there just to 'listen to Mejja's Part'. So, what happened in the Nairobi song? Will it be correct to say that the song was a clash of two titans, Sauti Sol and Mejja? Is it that Mejja made a minor appearance or maybe Shakilla is just being petty...well, this drama is far from over. We are waiting for Mejja's clap back.
Author: Katanu Munyao
---
---