Will Gachagua deliver Mount Kenya bloc to Ruto?
By: Mark Mbaluto Musili
Posted on Tuesday, May 17, 2022
---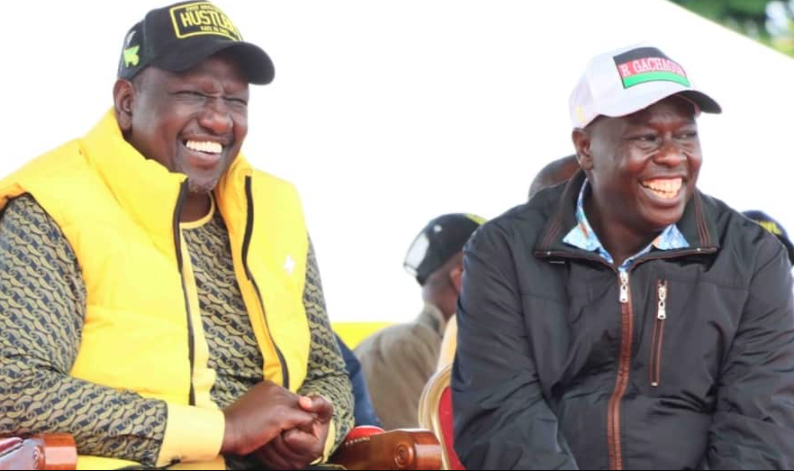 ---
By Mujidu Victor
Deputy President William Ruto seems to have high expectations with Mathira Member of Parliament (MP), Rigathi Gachagua, after unveiling him as his running mate on May 15, in his Karen home residence.
In his announcement, Ruto had a difficult decision to make between the two as each earns a portion of Mount Kenya region votes.
However, the Deputy President was put on the spot after Rigathi's die hard supporters threatened to riot if Ruto violates the order to appoint Gachagua as his deputy.
"No Rigathi, no Ruto...,Rigathi Gachagua has suffered as the person who has been leading deputy president's campaigns. Without Gachagua, Ruto should forget zoning Mt. Kenya votes," protestors from Mathira angrily voiced.
In 2017 General Elections, Rigathi garnered 52,757 votes after defeating his closest opponent Wambura Maranga who bagged 28,893 votes.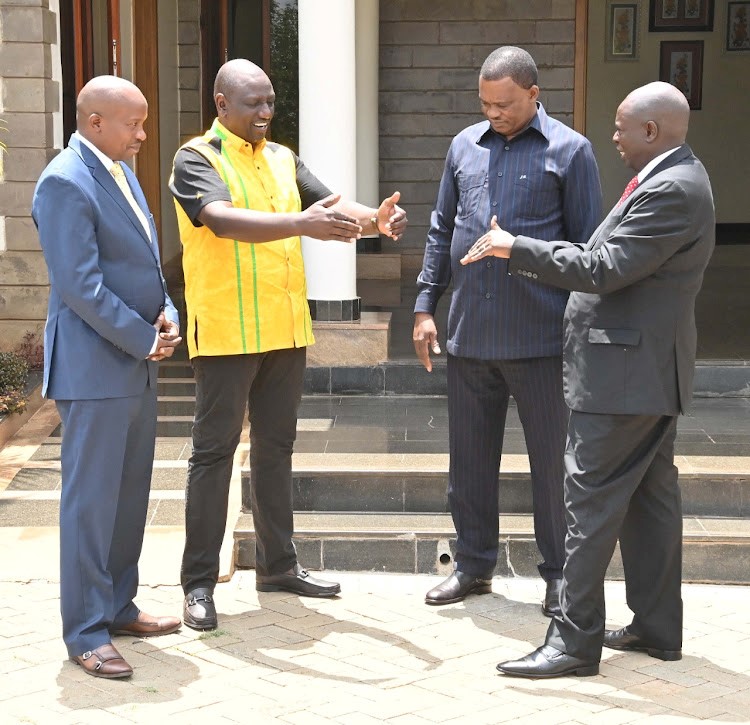 ---
From 2017 to date, Rigathi has flexed his political muscles by being a great mobiliser and the de-facto kingpin of Mt. Kenya region once held by the outgoing president, Uhuru Kenyatta.
Rigathi, who is coming from west of Mt. Kenya, is considered to have numbers because he is combative, articulated and a straight politician with deep enough pockets to run politics. On the other hand Kithure Kindiki, who comes from a peripheral part of Mt. Kenya (East) which is considered to have less votes than the West part of the mountain.
According to Kenyan political commentator Herman Manyora, Rigathi Gachagua is the most advantageous fellow to William Ruto for he possesses what it necessitates one to be a presidential running mate. He possess enough properties, mobilizing power and good political grassroots.
"Gachagua has all advantages that others didn't have. The fact that he comes from West part of Mt. Kenya, he owns the proper votes of Mt. Kenya due to the highest numbers of votes casted in every general elections. Kindiki is coming from the peripheral part of Mt. Kenya, the part with the least amount of voters. A sign that indicates Kindiki's fault in mobilizing votes from Mt Kenya region. Losing Gachagua would have been a big blow to Ruto in Mt Kenya."
Having Gachagua as Ruto's running mate, UDA will have a soft voice to garner more votes than their opponents in Mt Kenya as they scramble for the mountain votes too.
However, zoning Mt.Kenya votes for Ruto will be predominantly determined by the degree of corporation and full support from his allies.
Gachagua's firm decisions
The MP has been one of the fiercest opponents of the Handshake and its offshoot, the Building Bridges Initiative, leading those opposed to them in Mt Kenya gaining popularity among the masses.
Gachagua's Backsides story
Contrasting reactions have emananted as a result of Ruto's decision to appoint Gachagua as his running mate. While some of Mt Kenya voters appear to be rejoicing, others slander the decision and referred to Ruto as a man who dug his own grave.
Gachagua, a former District Officer of Molo, is facing six counts of conspiracy to commit economic crimes alongside William Mwangi, Anne Nduta, Julianne Jahenda, Samuel Murimi, Grace Wambui, Lawrence Kimaru, Irene Wambui and David Nguru.
In count one, the MP was charged with conspiracy to commit an offence of corruption, where it was alleged he defrauded the county government of Nyeri KSh27.4 million between May 2015 and December 2016.
The second charge stated that on December 29, 2014, Gachagua fraudulently acquired Sh6 million from Nyeri Provincial General Hospital for the supply of dialysis machines.
He faced two other counts of money laundering, in which the prosecution alleged the MP received a total of KSh112 million from Bungoma and Kwale counties and engaged in transactions to conceal the money trail while aware they were proceeds of crime.
The gist of the charges was in count five, where the MP was accused of fraudulent acquisition of KSh7.3 billion through his personal accounts at Rafiki Microfinance Bank.
The charges stated that between 2013 and 2020, Gachagua fraudulently received KSh7,330,011,265 through three bank accounts registered under the name of Rigathi Gachagua, domiciled at Rafiki Micro-Finance Bank.
Gachagua is facing another battle at the High Court, where the Asset Recovery Agency (ARA) filed a suit to compel him to forfeit KSh202 million to the state since that was proceeds of crime and money laundering.
ARA in its application, which is pending determination at the High Court, claims Gachagua's three personal accounts conducted a series of huge suspicious debit transactions amounting to Sh7.3 billion and a total credit of KSh12.5 billion between 2013 and 2020.
But Gachagua argued that he was being persecuted politically. He denied claims of money laundering and fraud involving his three companies.
---
---